Are you looking for an easy, tasty and healthy meal?  Do you love Chinese food? Well I have the solution for you right here! This recipe for my Asian Dinner Rotisserie Chicken & Rice is easy, flavorful and quite healthy.
We love Chinese food! It's our favorite take out on Friday nights. This week though I felt like whipping something up myself. You are not going to believe how easy this meal is to make. You can have it on the table in 30 min or less. The use of rotisserie chicken makes this a quick and tasty meal! Don't miss my Tips & Tricks for making perfect rice every time!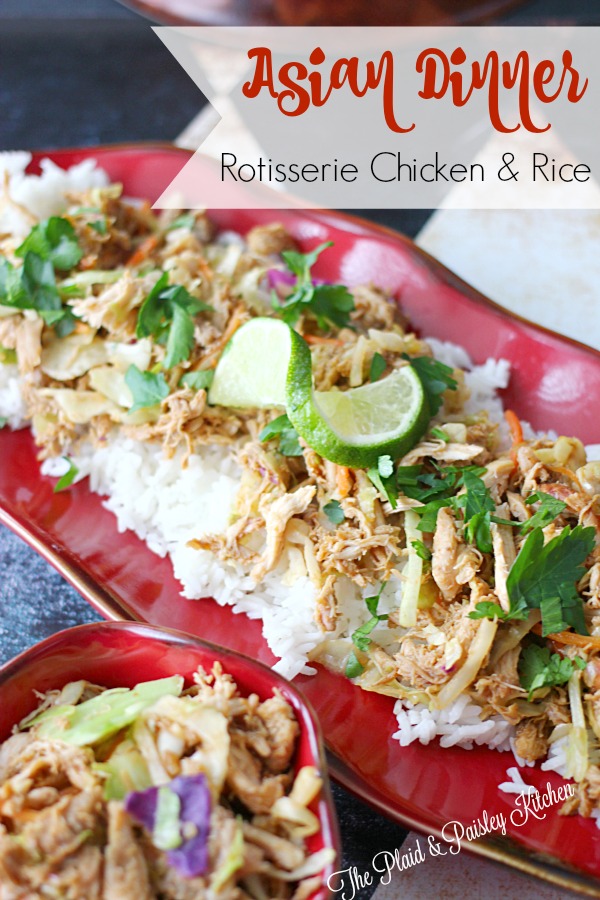 More recipes @ pandpkitchen.com
I love when I can make a meal quickly! I am all about easy meals for busy weeknights.  It's basically the whole theme of my blog. Using a delicious rotisserie chicken means that this dish will have so much flavor and you didn't have to do a thing!  If you can whisk up a sauce and boil water you have all the skills that you need to make this recipe a success!
This meal is actually quite healthy! Once you pull the skin off the chicken you lose a large amount of fat. Using coleslaw mix gets you a really nice mix of veggies and since you are flash cooking them you are not losing the nutrition in the cooking process.  You are going to love how tasty and filling this is.  The rice is perfect and gives you the right amount of carbs.
You can portion this out as small or as large as you want.  I actually had a few smaller portions as a protein packed power snack.  This really held me over from lunch to a late dinner.  No sugar crash, no hangry attitude, it was great!
I hope that I have enticed you to make this super simple recipe.  I know that it is going to  become a favorite on busy weeknights for you!  Make sure you get my Tips & Tricks for the perfect rice each and every time right after the recipe!
What is your favorite way to eat rotisserie chicken?  It's so fun to know what you like! It helps me create more recipes that will bring you back time and time again.
To Make this meal even easier you can have the ingredients delivered to you right from the List!! Just click the green button that says Order Ingredients. Easy Peasy and beats a run to the store when you are making your weekly meal plan! Contains Affiliate links
Ingredients
1 rotisserie chicken skin removed and hand shredded
1 lime
2 tbsp rice wine vinegar
2 tbsp reduced sodium soy sauce divided
2 tbsp sesame oil divided
1 tbsp sriracha
1tbs hoisin sauce
1/4 tsp salt
1/4 tsp white pepper
3 cups coleslaw shred {found in the lettuce section of produce}
1/2 cup rice cooked
Instructions
in a small mixing bowl whisk together:
1 tbsp soy, juice of 1/2 lime,1 tbs sesame oil, 1 tbsp hoisin
set aside
make the rice
meanwhile
pull the skin off the chicken and shred by hand
in a mixing bowl combine:
jucie of 1/2 lime, 2 tbsp rice wine vinegar, 1 tbsp coy, 1 tbs sesame oil, 1 tbsp sriracha, salt and pepper
whisk till all combines
heat a large skillet over medium high heat
toss the chicken in the sauce you just made
heat the chicken in the skillet 3- 5 min
toss in the coleslaw mix and continue to heat until mix is wilted and warm {approx 2-3 min}
plate the chicken over the rice
pour the sauce you made on top