Strawberries just make me happy! How can you not love something so sweet and pretty?  These Mini Strawberry Pies are the perfect sized treat for warm Summer days!
I miss living in California and picking our own strawberries in huge strawberry fields.  Plump, red, juicy berries are my absolute favorite.  I am sure that you love them as much as I do.  How could you not want to gobble these Mini Strawberry Pies right up?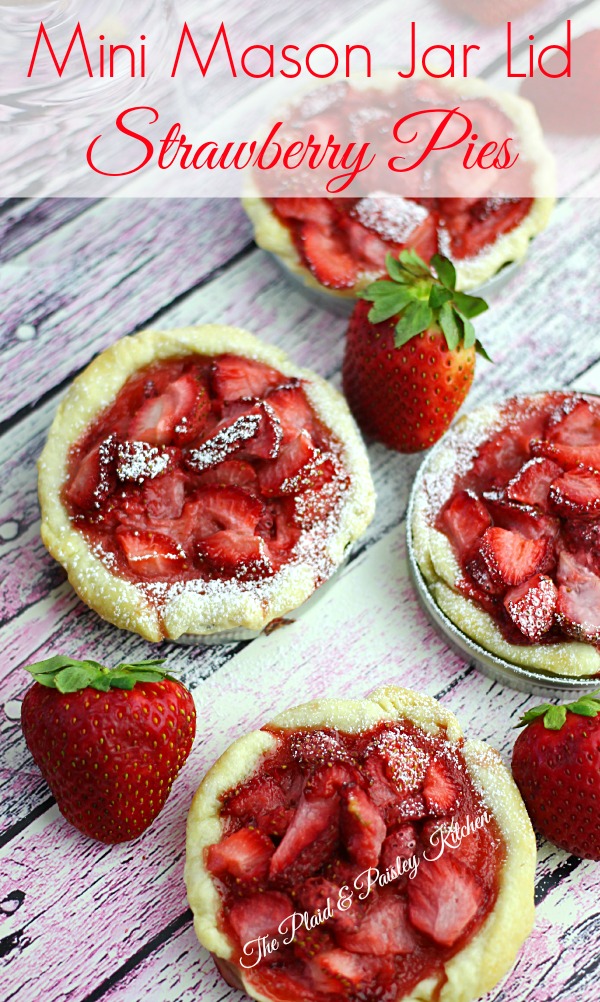 More recipes @ the Plaid and Paisley Kitchen
With a no roll pie crust these are a breeze to make.  Just mix dough together and press into the jar lids.  This is also a great way to make a full size pie crust.
I am not the best at fluting and with the Mason Jar Lids you don't have to worry about it.
Making the pies in a Mason Jar Lid is amazingly fun! Such a smart idea! I first saw them here on Created by Diane. This was the first time I have used the lid to bake in. I have baked with the jar before. Cherry Chocolate Chip Brownies in a Jar were a total success!
A perfect way to have portion control. Unless you keep going back for more. Which may or maynot have happened…..
Use the freshest Strawberries that you can find and you won't have to add any sugar to the filling. This is really just sliced Strawberries and Corn Starch.
I sliced and then tossed in 1 tbsp of sugar to macerate the Strawberries. This helps bring out all the sweet juice. The corn starch is to thicken the juice in the filling. No gelatine and no weird gooey strawberry filling. Just pure sweet Strawberries.
Mini Strawberry Pies will become a staple dessert in your home. I promise!
Ingredients
1 3/4 C flour
1/2 tsp salt
1/2 C vegetable oil
2 tbsp water
1 pint strawberries sliced and tossed in 1 tbs sugar
3 tbsp cornstarch
Instructions
slice the strawberries and in a bowl toss them with 1 tbsp sugar and set aside
preheat oven to 375
spray 6 mason jar lids with rings with non stick spray
in a bowl combine flour and salt.
stir in oil and water until just combined
Form dough into 6 equal sized balls
Press dough out evenly until it covers each lid including the sides
place lids on a cookie sheet
prick with a fork and bake for 5 min
meanwhile in the bowl of strawberries stir in the cornstarch making sure to coat all
divide the strawberries equally between each prebaked pie crust
bake pies for 25-30 min
let cool and enjoy!